Dinosaur Pet [With CD (Audio)] (Hardcover)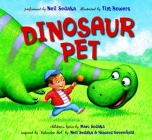 $17.95
Usually Ships in 1-5 Days
Description
---
This is a unique offering of a book and CD recorded by Neil Sedaka, telling a charming story with print and music. From a little egg, out comes the most appealing child-size dino with a wonderful friendly smile. But month by month, he gets bigger and wider and longer and taller. Soon, he's eating the family out of house and home, the bed is sagging under his weight, and the ceiling is too low. But no matter how giant the dinosaur grows, nothing gets between a boy and his pet. With its witty rhyming lyrics, amusing and gloriously colorful illustrations, and a catchy, irresistible tune on the included CD, kids will be reading, singing, and dancing and wishing for their own dinosaur pet.
About the Author
---


Marc Sedaka is a successful comedy writer for both film and TV.His produced credits include New Line Cinema's Overnight Deliverystarring Reese Witherspoon and Paul Rudd, CBS's King ofQueens, and NBC's Inside Schwartz. In addition, his family-relatedarticles have appeared in L.A. Parent and the Los Angeles Times. Hecurrently lives in Los Angeles with his wife Samantha and theirthree young children.

Andrew Clements is the author of the enormously popular "Frindle". More than 10 million copies of his books have been sold, and he has been nominated for a multitude of state awards, including two Christopher Awards and an Edgar Award. His popular works include "About Average", "Troublemaker", "Extra Credit, Lost and Found, No Talking, Room One, Lunch Money", and" "more. He is also the author of the Benjamin Pratt & the Keepers of the School series." "He lives with his wife in Maine and has four grown children. Visit him at AndrewClements.com.